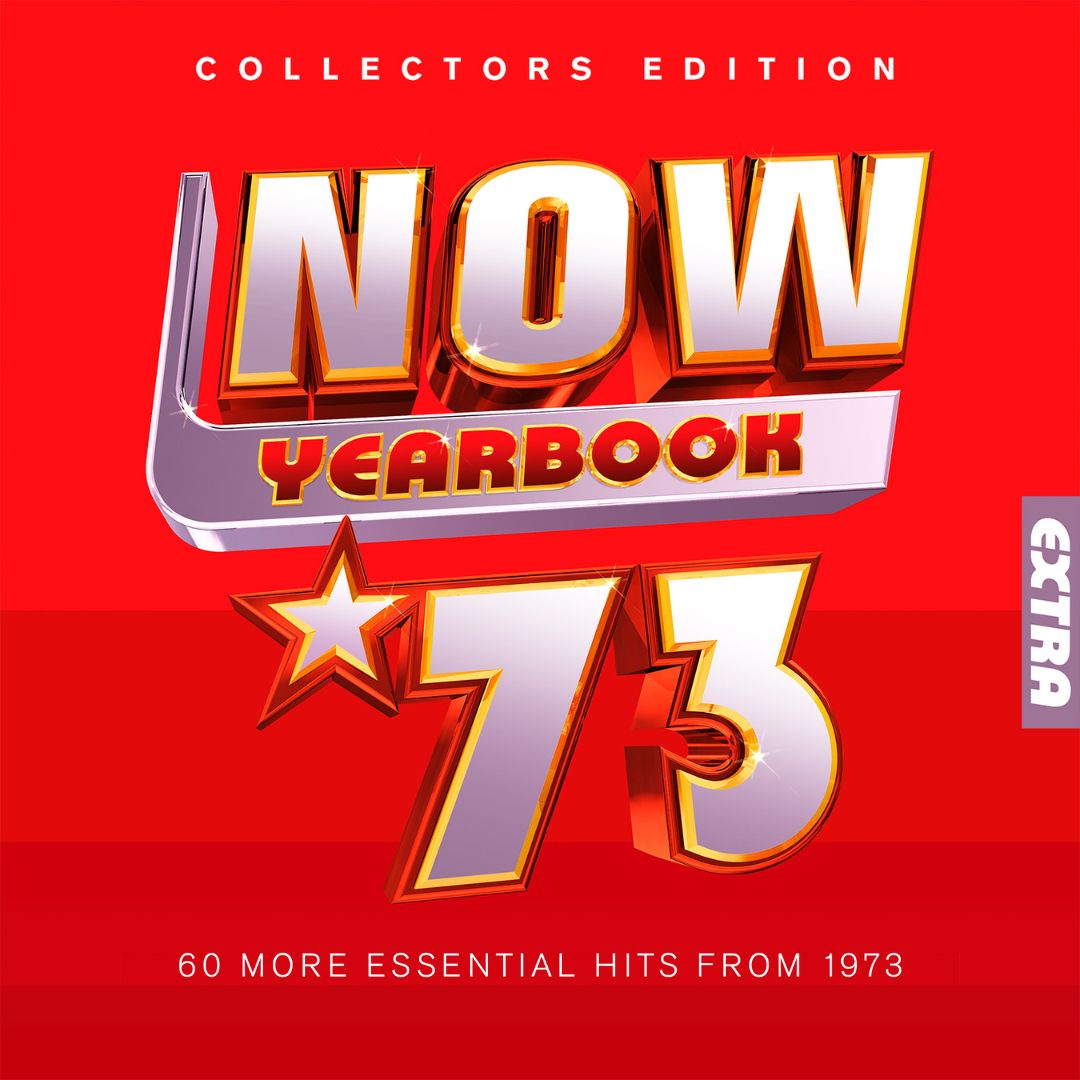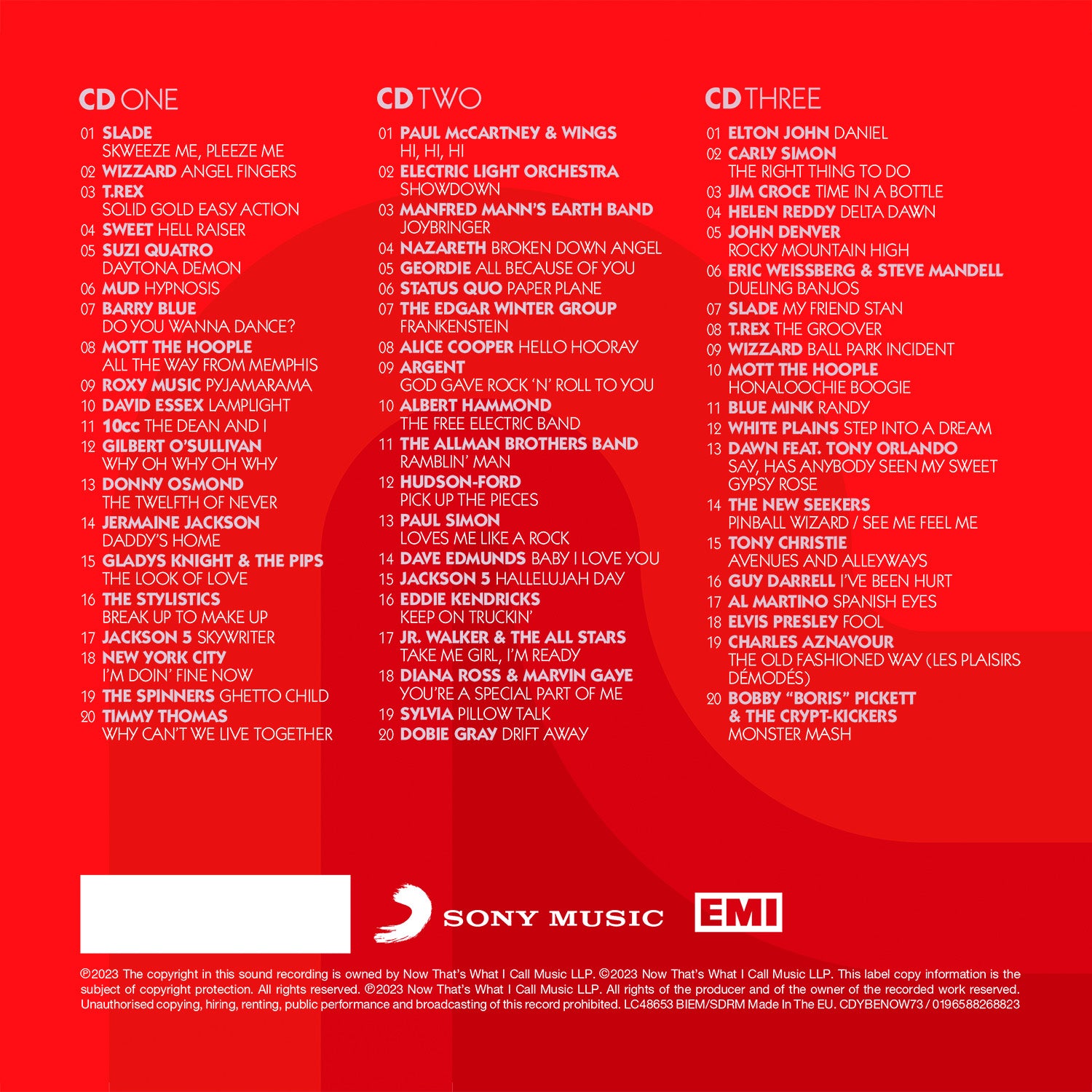 NOW – Yearbook Extra 1973 (3CD)
Release date: 13 October, 2023
Formats: 

CD Album
NOW Music is proud to present 60 more essential gems from the stellar Pop year of 1973 – NOW – Yearbook Extra 1973.
CD1 kicks off with two of the year's massive #1s – Slade with 'Skweeze Me, Pleeze Me', and 'Angel Fingers' from Wizzard leading a run of unforgettable Glam Pop & Rock from T.Rex, Sweet, Suzi Quatro, Mud, Mott The Hoople and Roxy Music. David Essex scored his second Top 10 hit, and 10cc their third - both feature - plus ballads from Gilbert O'Sullivan, and 'The Twelfth Of Never' from Donny Osmond which was another of 1973's #1s. Disc 1 closes with Gladys Knight & The Pips, The Stylistics, Jackson 5, The Spinners and Timmy Thomas with some of the year's Soul classics.
Paul McCartney & Wings open CD2 with 'Hi, Hi, Hi', before Electric Light Orchestra's 'Showdown', and 'Joybringer' from Manfred Mann's Earth Band. Next up is a superb run of Rock classics from Nazareth, Geordie, Status Quo, The Edgar Winter Group, Alice Cooper, and Argent ahead of some softer Pop-Rock from Albert Hammond, The Allman Brothers Band and Hudson-Ford. Singles from Paul Simon and Dave Edmunds lead into more of '73's Soul hits with tracks included from Eddie Kendricks, and Jr. Walker & The All Stars, before closing the disc with ballads from Diana Ross & Marvin Gaye, Sylvia and Dobie Gray.
The final disc begins with an enduring classic, 'Daniel' from Elton John, and singer-songwriters Carly Simon and Jim Croce with his U.S. #1 'Time In A Bottle'. Timeless tracks that were similarly big U.S. hits from Helen Reddy, John Denver, and the theme from the film Deliverance, 'Dueling Banjos' follow. CD3 also features more Glam-tinged memories from Slade, T.Rex, Wizzard and Mott The Hoople before some pure Pop nuggets including hits from Blue Mink, White Plains, Dawn feat. Tony Orlando, Tony Christie, and The New Seekers' take on 'Pinball Wizard' coupled with 'See Me Feel Me'. Ballads from Elvis Presley and Charles Aznavour are among the last run of tracks and are joined by big hits enjoying a re-release in 1973 from Guy Darrell, Al Martino, and signing-off with the timeless Halloween favourite 'Monster Mash' from Bobby "Boris" Pickett & The Crypt-Kickers.
NOW – Yearbook Extra 1973 – a further celebration of the diversity and magic of the year in Pop.