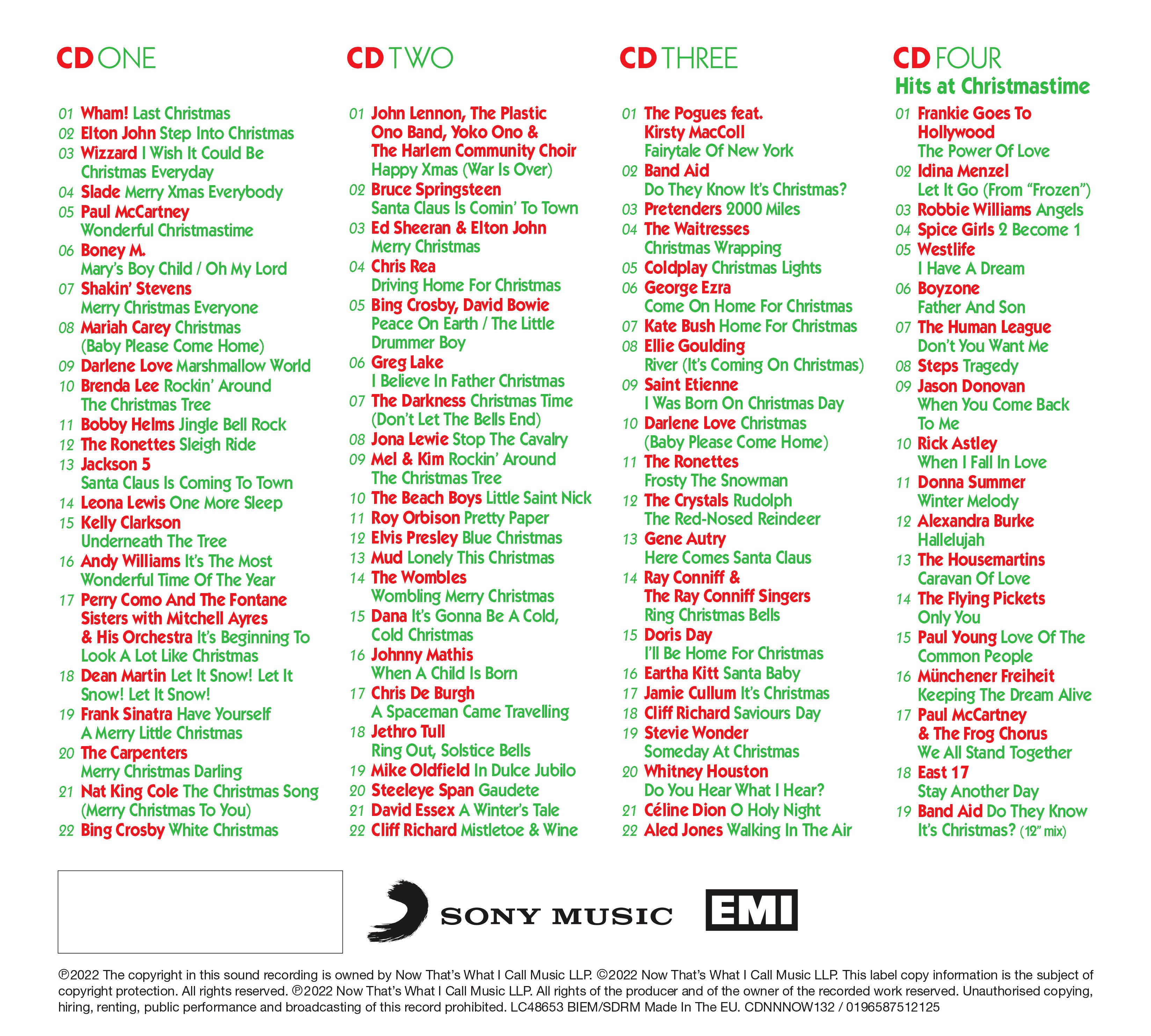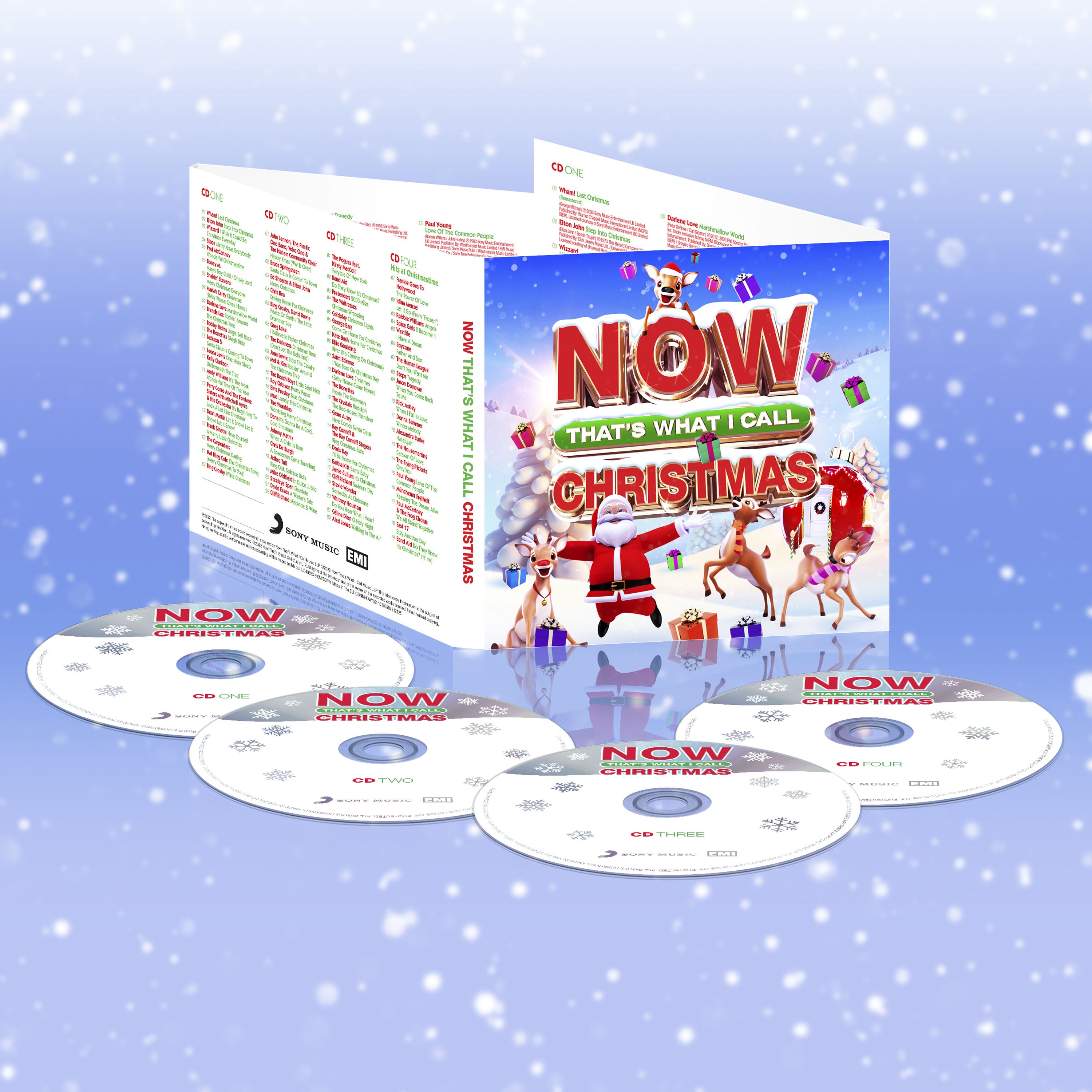 NOW That's What I Call Christmas (4CD)
Release date: 27 October, 2022
Formats: 

CD Album
NOW That's What I Call Christmas is back! A huge selection of 85 festive favourites across 4 CDs to soundtrack your celebrations.
A great gift to yourself, this blockbuster collection is also the perfect gift for your friends and family – featuring all the well-loved classics, leading off with the perennially popular 'Last Christmas' from Wham!, and further #1s from Slade with 'Merry Xmas Everybody', Boney M. with 'Mary's Boy Child / Oh My Lord', 2021's collaboration between Ed Sheeran and Elton John 'Merry Christmas', Shakin' Stevens' 'Merry Christmas Everyone' and the record breaking 'Do They Know It's Christmas?' from Band Aid.
Evergreen favourites from Paul McCartney with 'Wonderful Christmastime', Chris Rea with 'Driving Home For Christmas', Pretenders' '2000 Miles', John Lennon & Yoko Ono's 'Happy Xmas (War Is Over)', are all present alongside the timeless 'Step Into Christmas' from Elton John, 'I Wish It Could Be Christmas Everyday' from Wizzard – and The Pogues feat. Kirsty MacColl with 'Fairytale Of New York'.
Huge contemporary hits from Leona Lewis, Kelly Clarkson, George Ezra, Coldplay and Ellie Goulding, are featured, along with Mariah Carey's fabulous version of 'Christmas (Baby Please Come Home)', and the beautiful 'Home For Christmas' from Kate Bush.
There are 70s & 80s crackers from Jona Lewie, Mud, The Wombles, Greg Lake and Cliff Richard – plus Bruce Springsteen's take on 'Santa Claus Is Coming To Town', The Carpenters' 'Merry Christmas Darling', The Waitresses' 'Christmas Wrapping' and the celebrated collaboration 'Peace On Earth / Little Drummer Boy' between Bing Crosby and David Bowie.
NOW That's What I Call Christmas presents an incredible line up of classics from legendary artists including Nat King Cole, Frank Sinatra, Elvis Presley, The Beach Boys, Andy Williams, Dean Martin, and 'White Christmas' from Bing Crosby – and joyous sing-a-long anthems from Darlene Love with 'Marshmallow World', Brenda Lee 'Rockin' Around The Christmas Tree', Jackson 5's 'Santa Claus Is Coming To Town', The Crystals' 'Rudolph The Red-Nosed Reindeer' and 'Jingle Bell Rock' from Bobby Helms.
With our final disc, we celebrate songs that may not all be about Christmas, but were all huge tracks across the festive season… Frankie Goes To Hollywood's 'The Power Of Love', 'Stay Another Day' from East 17, Paul McCartney & The Frog Chorus with 'We All Stand Together', 'When You Come Back To Me' from Jason Donovan, and 'Let It Go' from Idina Menzel – alongside #1s from The Flying Pickets, The Housemartins, and The Human League… and to close the collection, the 12" version of 'Do They Know It's Christmas?' from Band Aid.
The perfect playlist whether you're decorating the tree, singing along making (or eating!) the mince pies – or enjoying the company of friends and family.