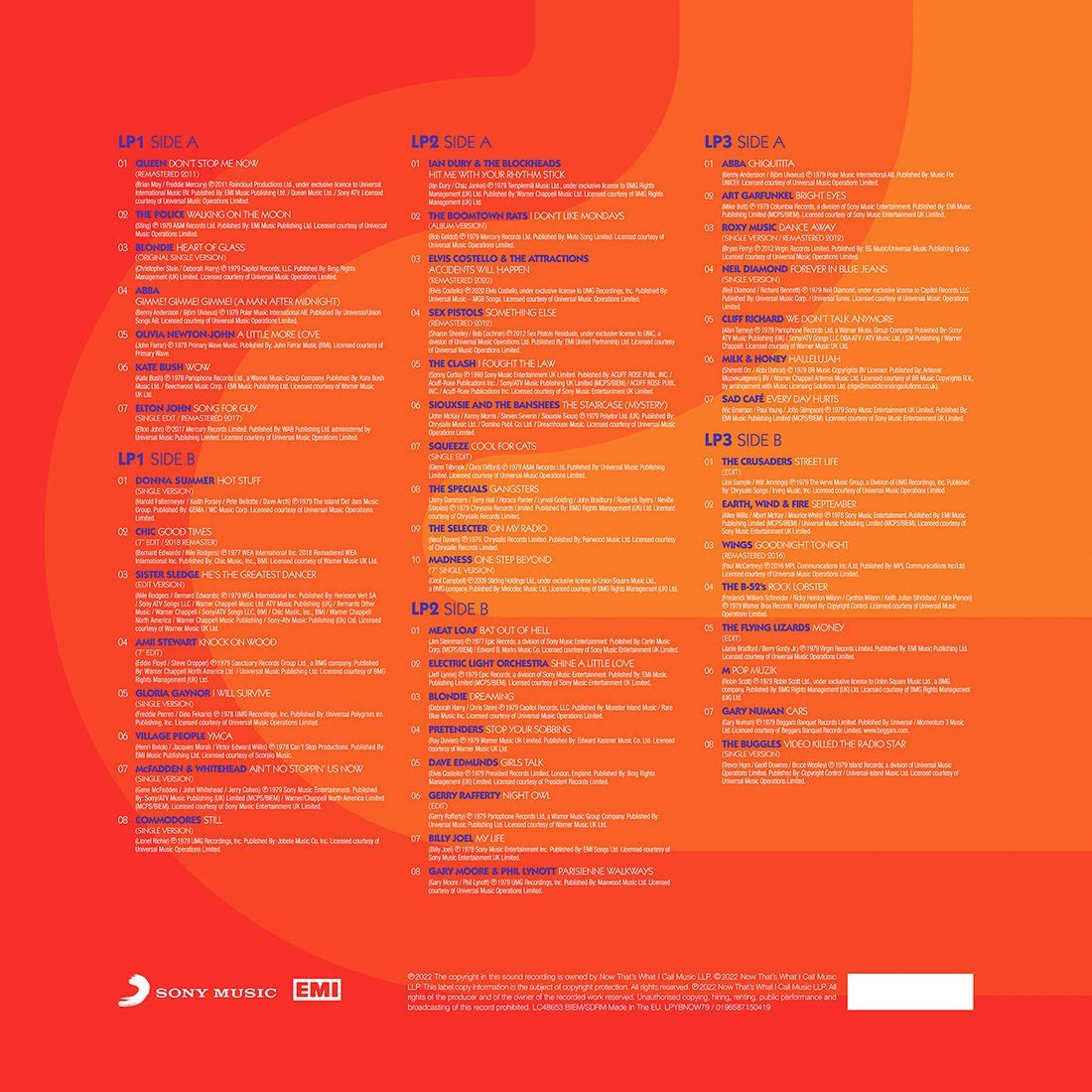 NOW – Yearbook 1979 (3LP)
Release date: 9 September, 2022
Formats: 

Vinyl LP
Since June 2021 we have presented five editions of the NOW – Yearbook series that span the first half of the 1980s.
NOW Music is proud to present the newest edition to our 'Yearbook' family: NOW – Yearbook 1979.
With a re-imagined look that reflects the era, 48 tracks over 3-LPs on bright orange vinyl, celebrating a truly spectacular year of chart magic. Kicking off with one of Queen's most popular songs 'Don't Stop Me Now', LP1 includes #1s from The Police ('Walking On The Moon') and the defining 'Heart Of Glass' from Blondie, as well as timeless hits from ABBA, Kate Bush, Olivia Newton-John and closing Side A with the beautiful 'Song For Guy' by Elton John.
'Hot Stuff' by Donna Summer features on Side B alongside massive Disco-Floor-Fillers from Chic, Sister Sledge, and Amii Stewart plus two further iconic #1s from Gloria Gaynor with 'I Will Survive' and 'YMCA' from Village People.
LP2 Side A showcases an astonishing run of New Wave and Post-Punk hits leading with #1s from Ian Dury & The Blockheads ('Hit Me With Your Rhythm Stick') and The Boomtown Rats ('I Don't Like Mondays'), and featuring Squeeze, Elvis Costello & The Attractions, Siouxsie And The Banshees, The Clash and Sex Pistols, before three Ska/Pop crossover hits from The Specials, The Selecter and 'One Step Beyond' from Madness.
Flipping to Side B, Classic Rock from Meat Loaf and Electric Light Orchestra is joined by timeless hits from Billy Joel, Gerry Rafferty, Dave Edmunds and the debut 'Stop Your Sobbing' by Pretenders.
LP3 is all about Pop Gold – starting with ABBA's 'Chiquitita' and including 'We Don't Talk Anymore' – #1 for Cliff Richard, along with the year's biggest-selling single, 'Bright Eyes' by Art Garfunkel, plus Neil Diamond, Roxy Music, and the winner of 1979's Eurovision Song Contest – the Top 5 hit 'Hallelujah' from Milk & Honey.
Concluding the set, Side B features Wings, Earth, Wind & Fire, and opens with the superb 'Street Life' from The Crusaders. The unforgettable chart debut for The B-52's with the iconic 'Rock Lobster' is included and the side concludes with four Synth-Pop smashes that pointed the way to the upcoming decade – 'Money' by The Flying Lizards, 'Pop Muzik' from M, and two further #1s from 1979: 'Cars' – one of two chart-toppers for Gary Numan in 1979 – and closing with 'Video Killed The Radio Star' by The Buggles. This track was co-written, produced and performed by Trevor Horn whose work would define the pop landscape over the next few years, whilst the song would be the first to be played on MTV in the US when it launched in 1981.
NOW – Yearbook 1979 – A celebration of the diversity of the charts, and the creative brilliance of the year in pop.