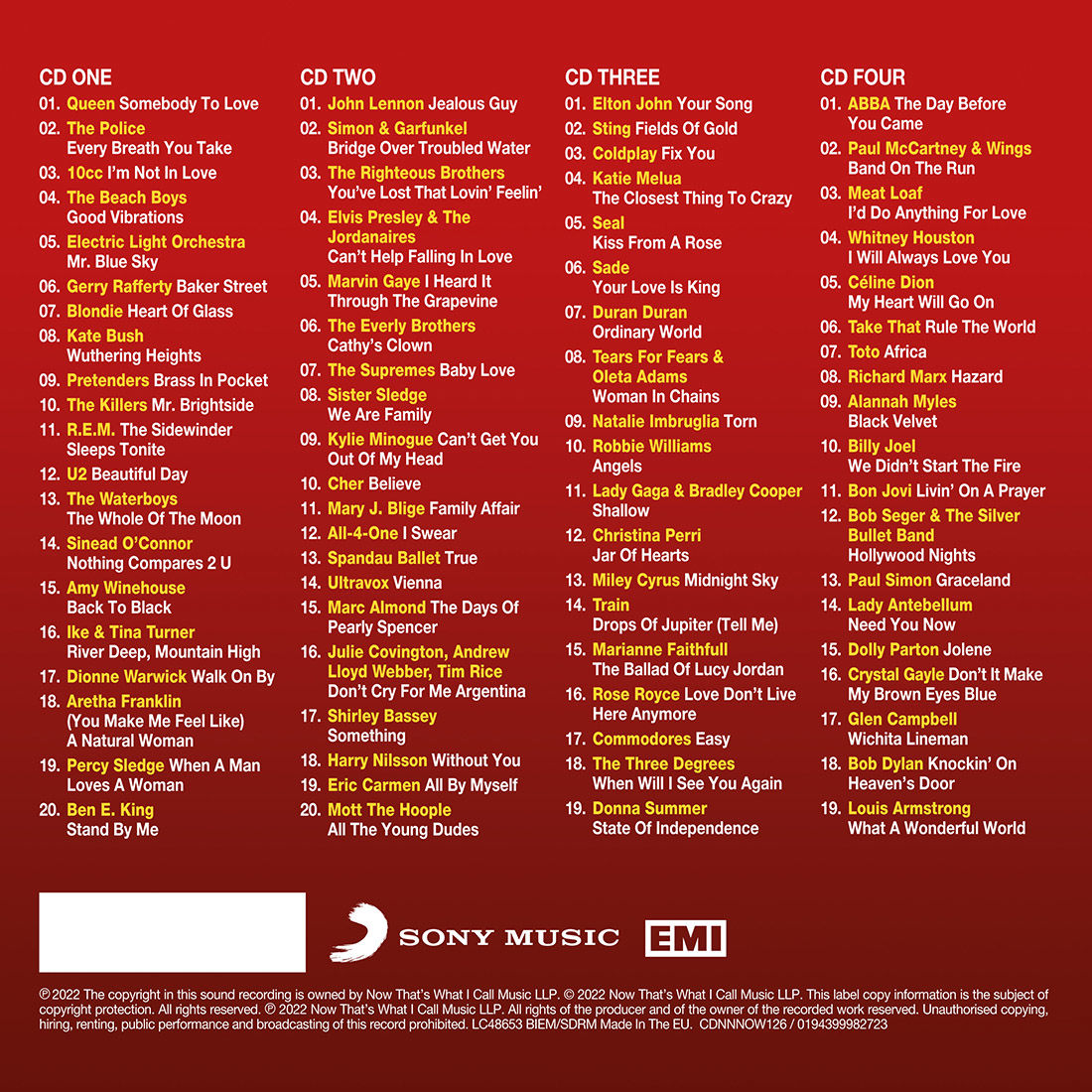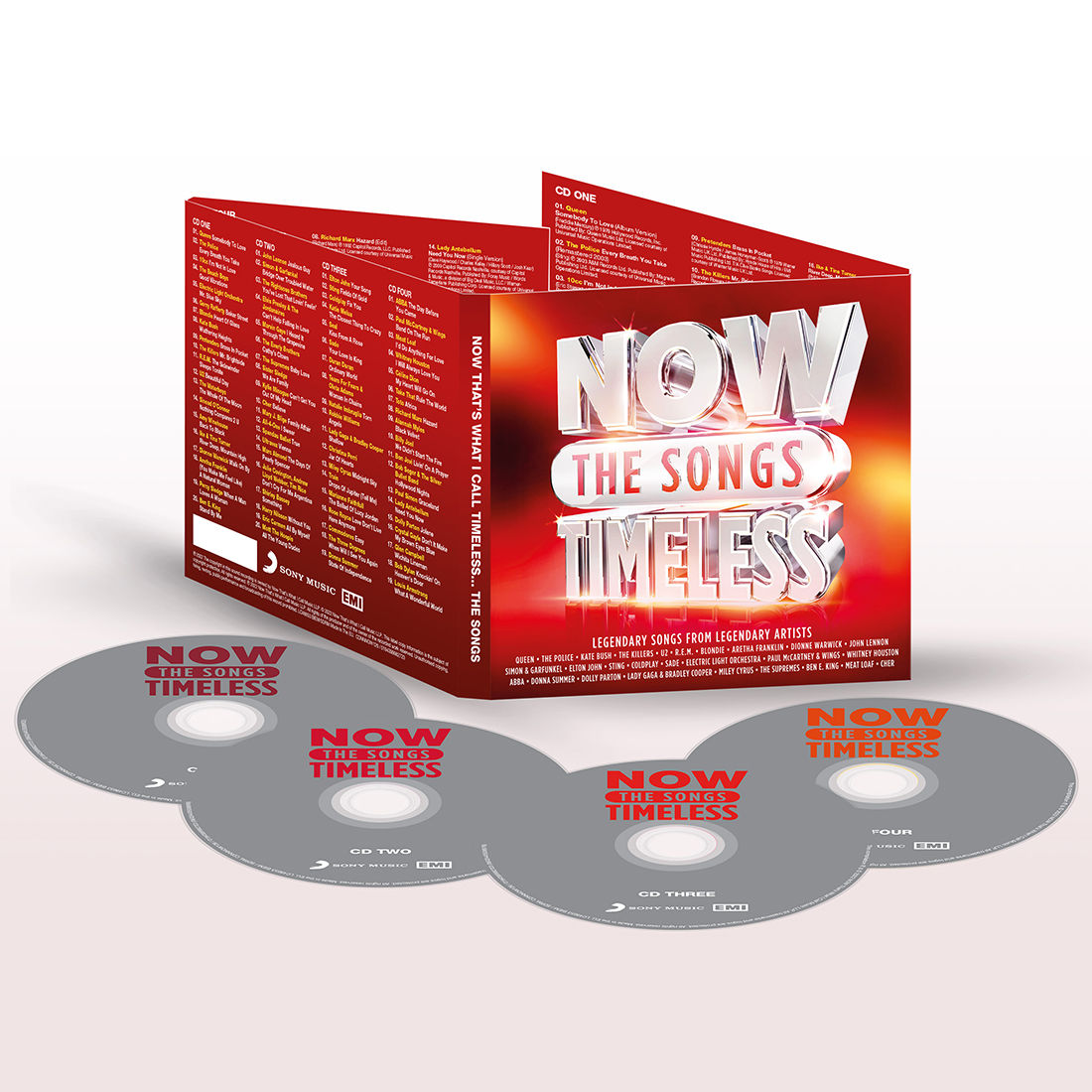 NOW That's What I Call Timeless… The Songs (4CD)
Release date: 26 May, 2022
Formats: 

CD Album
NOW Music is proud to present NOW That's What I Call Timeless…The Songs.
Across 4 CDs, 78 of the greatest songs from the past six decades from some of the most-loved artists ever.
Queen's anthem 'Somebody To Love' begins, with 'Every Breath You Take', the fifth No. 1 from The Police, and 10cc's classic 'I'm Not In Love' following. Disc 1 also includes 70s smashes 'Mr. Blue Sky' from Electric Light Orchestra, 'Baker Street' from Gerry Rafferty, 'Heart Of Glass' from Blondie – and 'Wuthering Heights' – the song that not only launched the career of Kate Bush but became the first No. 1 in the UK self-penned by a female artist. The Beach Boys, Ike & Tina Turner, Dionne Warwick and Aretha Franklin are all present with their 60s signature songs, alongside more contemporary classics 'Beautiful Day' from U2, 'Mr. Brightside' from The Killers, 'The Sidewinder Sleeps Tonite' from R.E.M. and iconic female voices on 'Brass In Pocket' (Pretenders), 'Back To Black' (Amy Winehouse), and Sinead O'Connor's incredible interpretation of Prince's 'Nothing Compares 2 U'.
Disc 2 opens with a stellar run of hits so familiar you'll know every word…'Jealous Guy', 'Bridge Over Troubled Water', 'You've Lost That Lovin' Feelin'', 'Can't Help Falling In Love' and 'I Heard It Through The Grapevine'. Kylie Minogue's 'Can't Get You Out Of My Head', Mary J. Blige's 'Family Affair' and Sister Sledge's 'We Are Family' are all dance classics as is the 7-week number one from Cher with 'Believe'. Iconic 80s tracks 'True' and 'Vienna' are here along with huge vocal performances from Shirley Bassey ('Something'), Harry Nilsson ('Without You') and Eric Carmen ('All By Myself') as is the Ivor Novello Award winning 'Don't Cry For Me Argentina' from the musical 'Evita'.
A run of the most beautiful songs starts the third disc with Elton John's 'Your Song', 'Fields Of Gold' from Sting, and Coldplay's 'Fix You', plus huge radio and chart hits from Seal, Sade, Katie Melua, and Duran Duran's 'Ordinary World'.
Contemporary hits that are destined to become future standards ('Angels', 'Shallow', 'Torn' and 'Midnight Sky') feature, but leaving room for Commodores' 'Easy', Rose Royce with 'Love Don't Live Here Anymore', 'When Will I See You Again' from The Three Degrees, and stellar performances from Marianne Faithfull on 'The Ballad Of Lucy Jordan', and Donna Summer on 'State Of Independence'.
The final part of our salute to the greatest songs begins with the incredible ABBA track 'The Day Before You Came' – highly regarded as one of their best ever songs, and continues with peerless songs from Paul McCartney & Wings ('Band On The Run'), and Meat Loaf's epic 'I'd Do Anything For Love (But I Won't Do That)'. Some of the biggest themes from movies are included from Céline Dion, Take That, and Whitney Houston's 'I Will Always Love You' – a song written by Dolly Parton, who also features with 'Jolene'. Bon Jovi, Billy Joel, Richard Marx, and Bob Seger & The Silver Bullet Band provide some of the most popular drivetime anthems, and we wind down with ballads from Glen Campbell with 'Wichita Lineman', and Bob Dylan's 'Knockin' On Heaven's Door', before the final perfect sign-off from Louis Armstrong with the truly enduring 'What A Wonderful World'.
Legendary songs from legendary artists, essential for your own collection – and a fantastic gift to share these songs. NOW That's What I Call Timeless…The Songs.