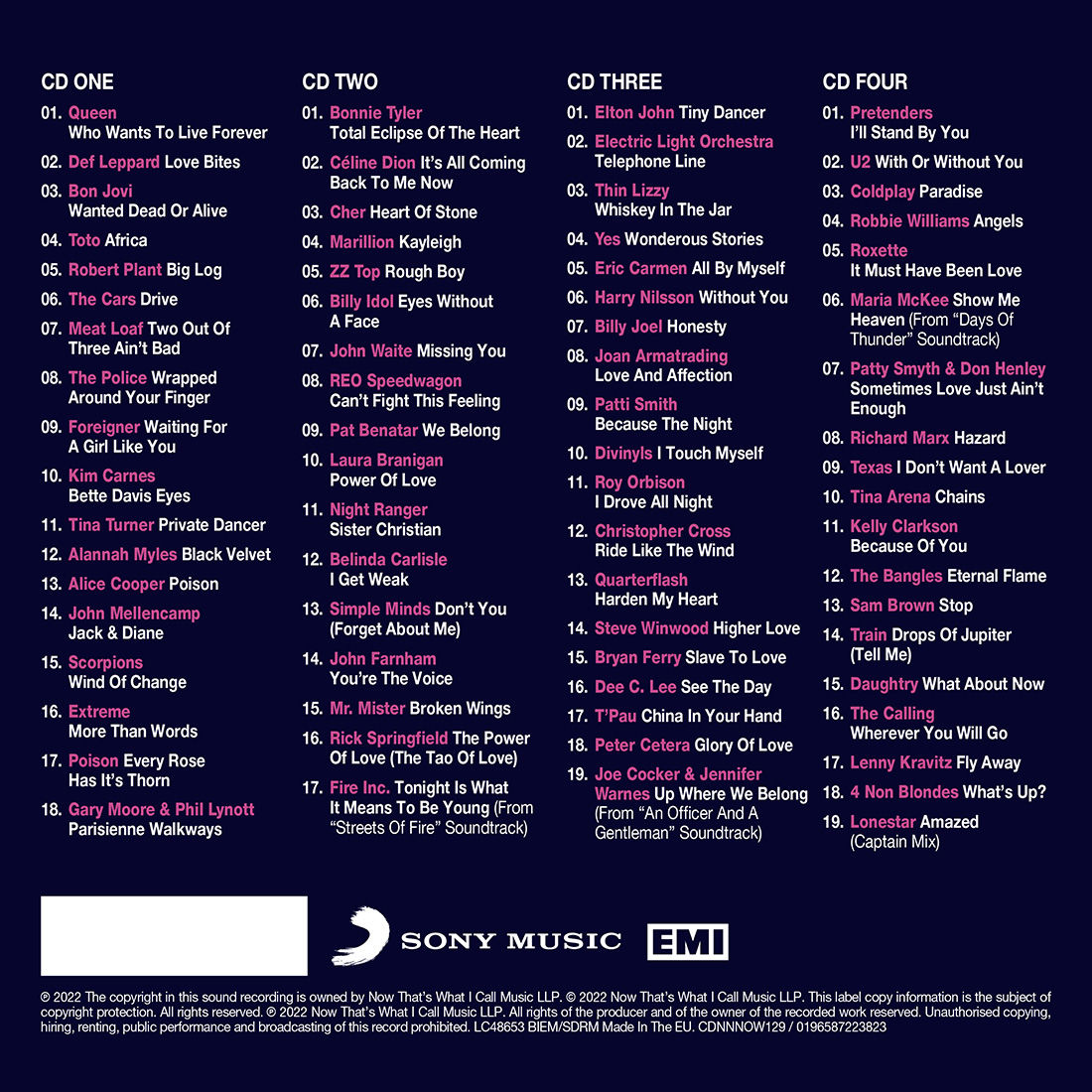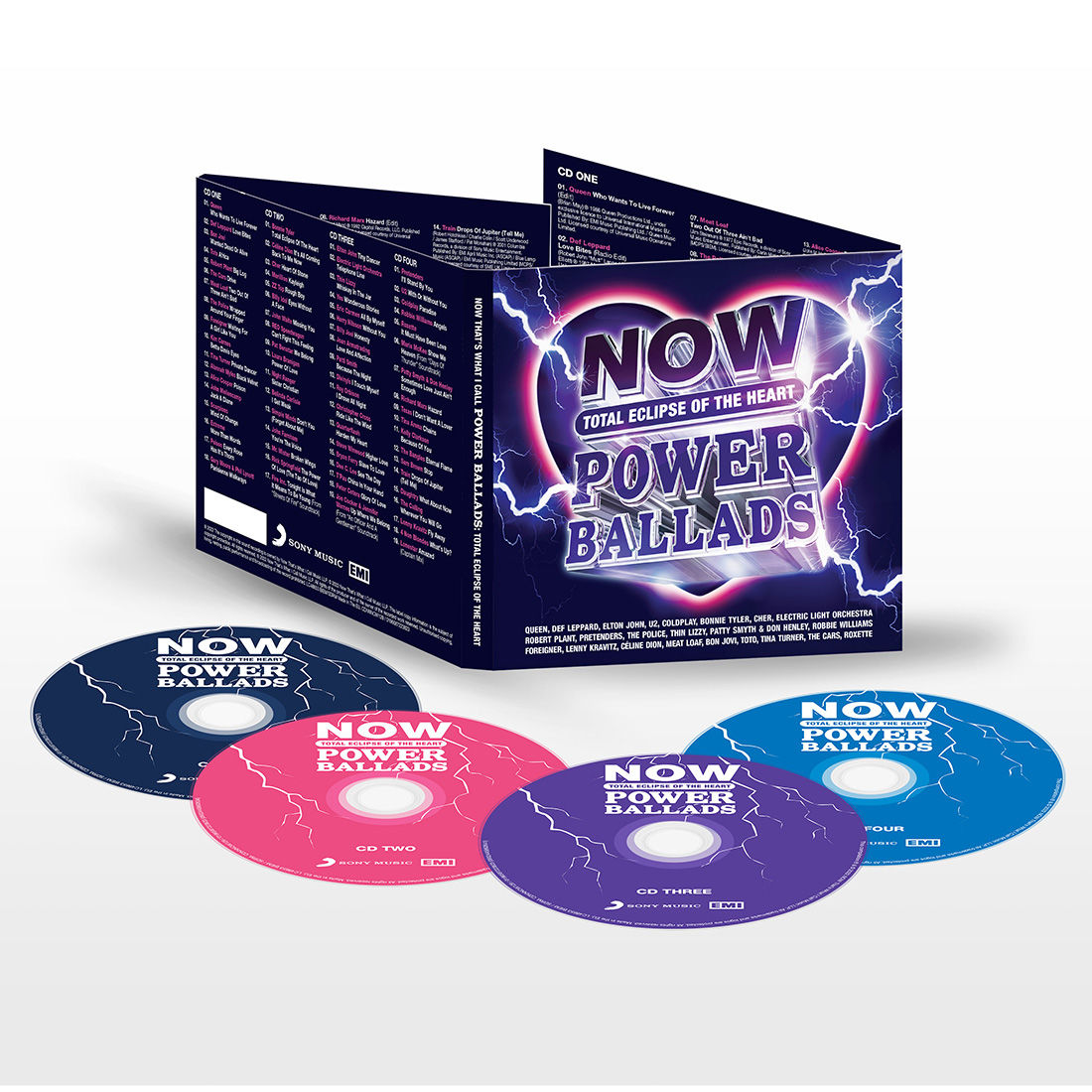 NOW That's What I Call Power Ballads: Total Eclipse Of The Heart (4CD)
Release date: 11 August, 2022
Formats: 

CD Album
NOW That's What I Call Music! presents NOW That's What I Call Power Ballads: Total Eclipse Of The Heart. More than 70 epic anthems across 4 CDs, demanding a loud sing-a-long and lots of accompanying air guitar!
Kicking off with the beautiful 'Who Wants To Live Forever' from Queen and moving into classic Def Leppard with 'Love Bites' and Bon Jovi's 'Wanted Dead Or Alive'. The '80s big-hitters continue with The Police, Foreigner, Robert Plant, John Mellencamp, and two of the decades' most enduring airplay hits, The Cars with 'Drive' and 'Africa' from Toto. 'Private Dancer', the title track from Tina Turner's huge 1984 album features alongside Kim Carnes' 'Bette Davis Eyes', plus early-90's powerhouse vocals from Alannah Myles on 'Black Velvet' and defining ballads from Scorpions and Extreme. The late '70s provide 'Two Out Of Three Ain't Bad' from Meat Loaf, and the disc's sign-off track from Gary Moore & Phil Lynott.
Disc Two opens with the inspiration for our subtitle, 'Total Eclipse Of The Heart' from Bonnie Tyler, and Jim Steinman's epic production continues with Céline Dion's 'It's All Coming Back To Me Now'. Cher, Marillion, ZZ Top, Billy Idol and Pat Benatar all follow, and we've included Laura Branigan's huge vocal take on 'Power Of Love'.
Our third disc begins with timeless '70s soft-rock ballads. 'Tiny Dancer' from Elton John, 'Telephone Line' from Electric Light Orchestra and Thin Lizzy's 'Whiskey In The Jar' kick off the ultimate sing-a-long, with all-time classics from Harry Nilsson, Billy Joel, Eric Carmen, Joan Armatrading, and the Bruce Springsteen penned 'Because The Night' from Patti Smith to follow. More '80s favourites from Peter Cetera, Bryan Ferry, Steve Winwood, T'Pau and Joe Cocker & Jennifer Warnes' 'Up Where We Belong' bring this disc to a close.
The final disc opens with a run of stellar contemporary classics, 'I'll Stand By You' from Pretenders, U2's 'With Or Without You' and 'Paradise' from Coldplay lead in to 'Angels' from Robbie Williams, plus well-loved smashes from Roxette, Maria McKee, Richard Marx and the peerless collaboration on 'Sometimes Love Just Ain't Enough' from Patty Smyth and Don Henley. Huge airplay tracks from the '90s & '00s round off the collection including defining songs from Train, The Calling, Lenny Kravitz, 4 Non Blondes and Lonestar.
Epic essentials for every collection: NOW That's What I Call Power Ballads: Total Eclipse Of The Heart.