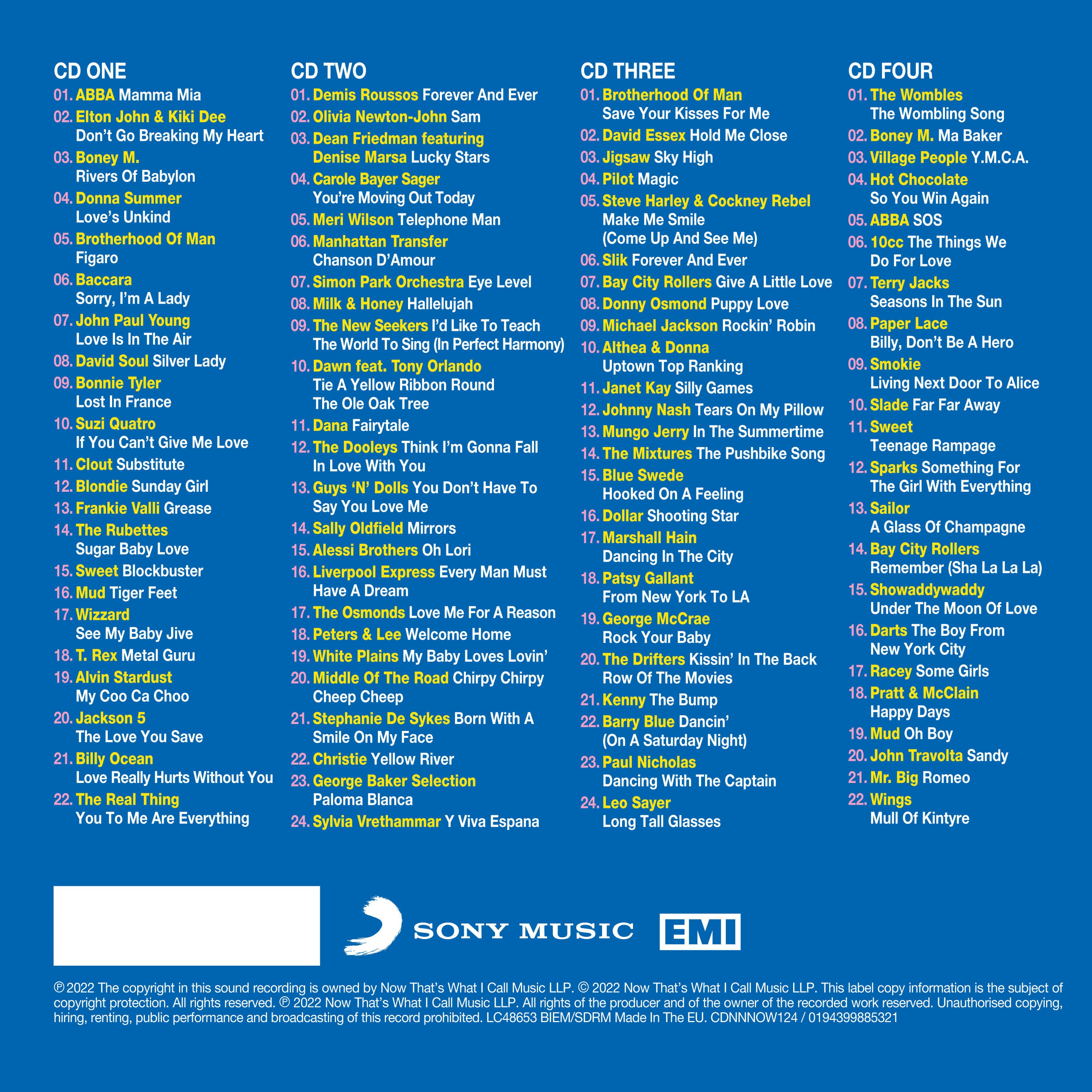 NOW That's What I Call 70s Pop (4CD)
Release date: 11 March, 2022
Formats: 

CD Album
Now Music is proud to present NOW That's What I Call 70s Pop – a celebration of the decade with the biggest pure pop hits on 4 CDs.
Disc 1 kicks off with one of the most enduring songs ever from the legendary ABBA with 'Mamma Mia' and continues with back-to-back No. 1s from Elton John and Kiki Dee ('Don't Go Breaking My Heart') and Boney M. ('Rivers Of Babylon'). Huge hits from Donna Summer ('Love's Unkind'), David Soul with 'Silver Lady', and smashes from Suzi Quatro, Clout and Bonnie Tyler follow – and the first of two tracks from Brotherhood Of Man with 'Figaro' (their Eurovision winner 'Save Your Kisses For Me' is on Disc 3). Jackson 5, Billy Ocean and The Real Thing bring the first disc to a close – but not before some stomping glam pop from Sweet, Mud, Wizzard and T.Rex.
The second disc salutes some of the most fabulous easy-listening pop of all time, including No. 1s from Manhattan Transfer with 'Chanson D'Amour', Simon Park Orchestra with 'Eye Level', 'I'd Like To Teach The World To Sing (In Perfect Harmony)' from The New Seekers, and starting off with the sublime 'Forever And Ever' from Demis Roussos. The Osmonds, Olivia Newton-John, Peters & Lee, Dawn feat. Tony Orlando, and Milk & Honey's Eurovision winner 'Hallelujah' are all present - plus some unique pure pop gems from Carole Bayer Sager, Meri Wilson and Dean Friedman.
Highlights on Disc 3 include pop idols Donny Osmond, Bay City Rollers, Michael Jackson and David Essex, alongside unforgettable pop-reggae from Janet Kay with 'Silly Games', and the No. 1 'Uptown Top Ranking' from Althea and Donna. Pop-Disco crossover hits from Marshall Hain, Patsy Gallant and Dollar feature, along with the smooth soul of 'Rock Your Baby' from George McCrae - and there's still room for Jigsaw ('Sky High'), Pilot ('Magic') and the No. 1 from Steve Harley and Cockney Rebel with 'Make Me Smile (Come Up And See Me)' – plus three of the ultimate pop hooks of all-time from Mungo Jerry, The Mixtures and Blue Swede.
As well as picking up litter on Wimbledon Common, The Wombles were the pop sensations of 1974, and 'The Wombling Song' kicks the last disc off – Boney M., Village People, Hot Chocolate and 10cc follow – as does the second featured track from ABBA, 'SOS', and Terry Jacks' No. 1 'Seasons In The Sun'. Slade, Smokie, Sparks and Sailor all delivered stellar pop gold and Showaddywaddy, Darts, Mud and John Travolta all pay homage to the Rock 'N' Roll era - 70's style, as does the theme from the huge TV show 'Happy Days', and the first single to sell over two million copies in the UK and spent nine weeks at No. 1. 'Mull Of Kintyre' from Wings makes the perfect song to conclude our journey through the pop goldmine of the 1970s.
92 iconic and distinctive gems on one timeless collection - NOW That's What I Call 70s Pop.