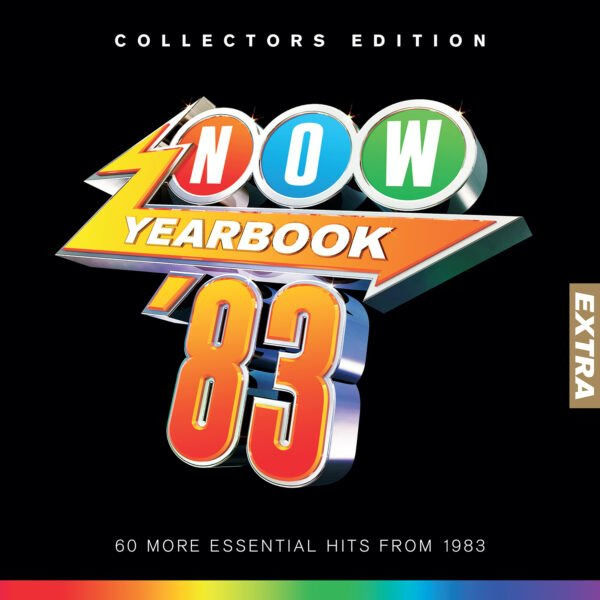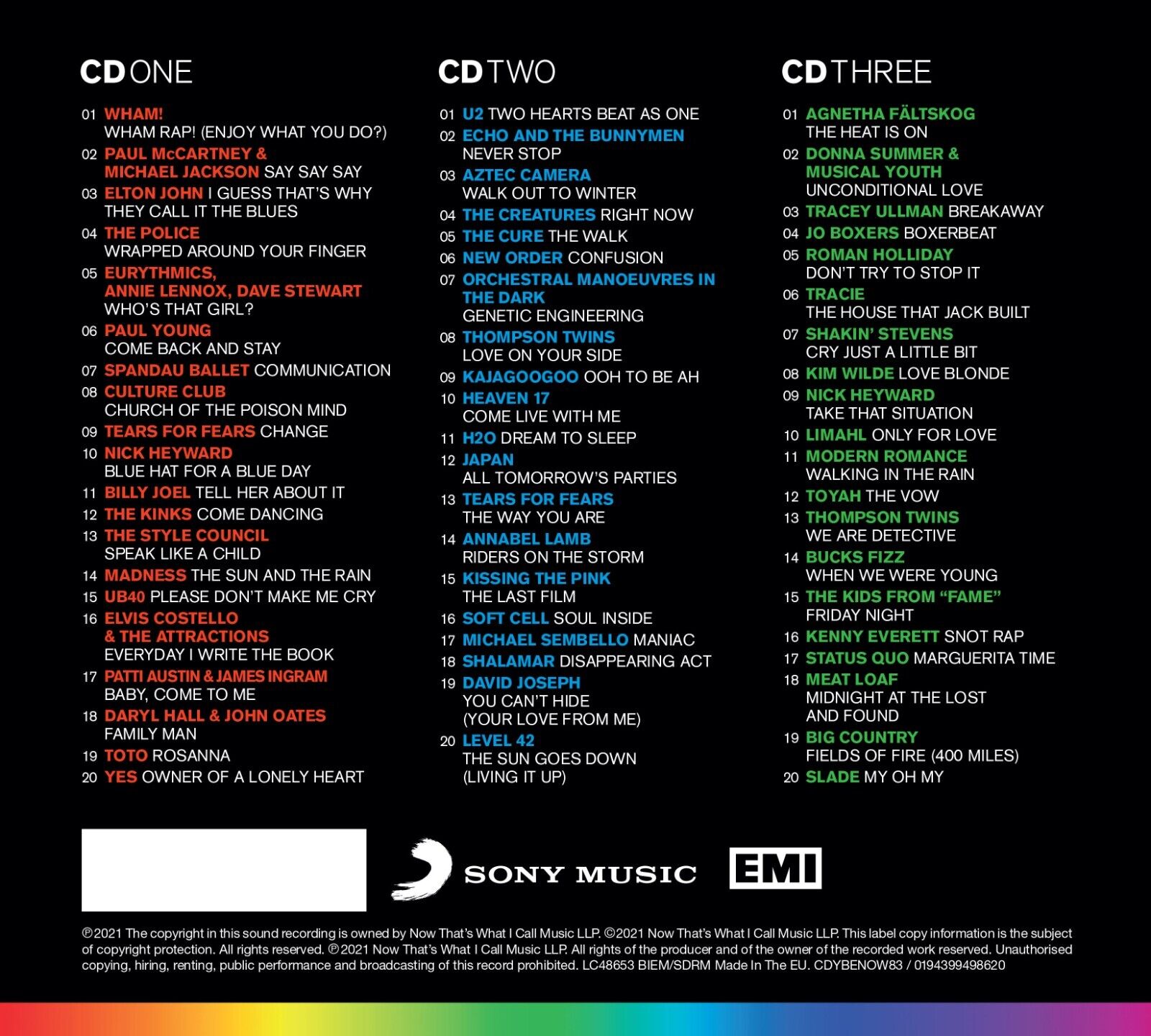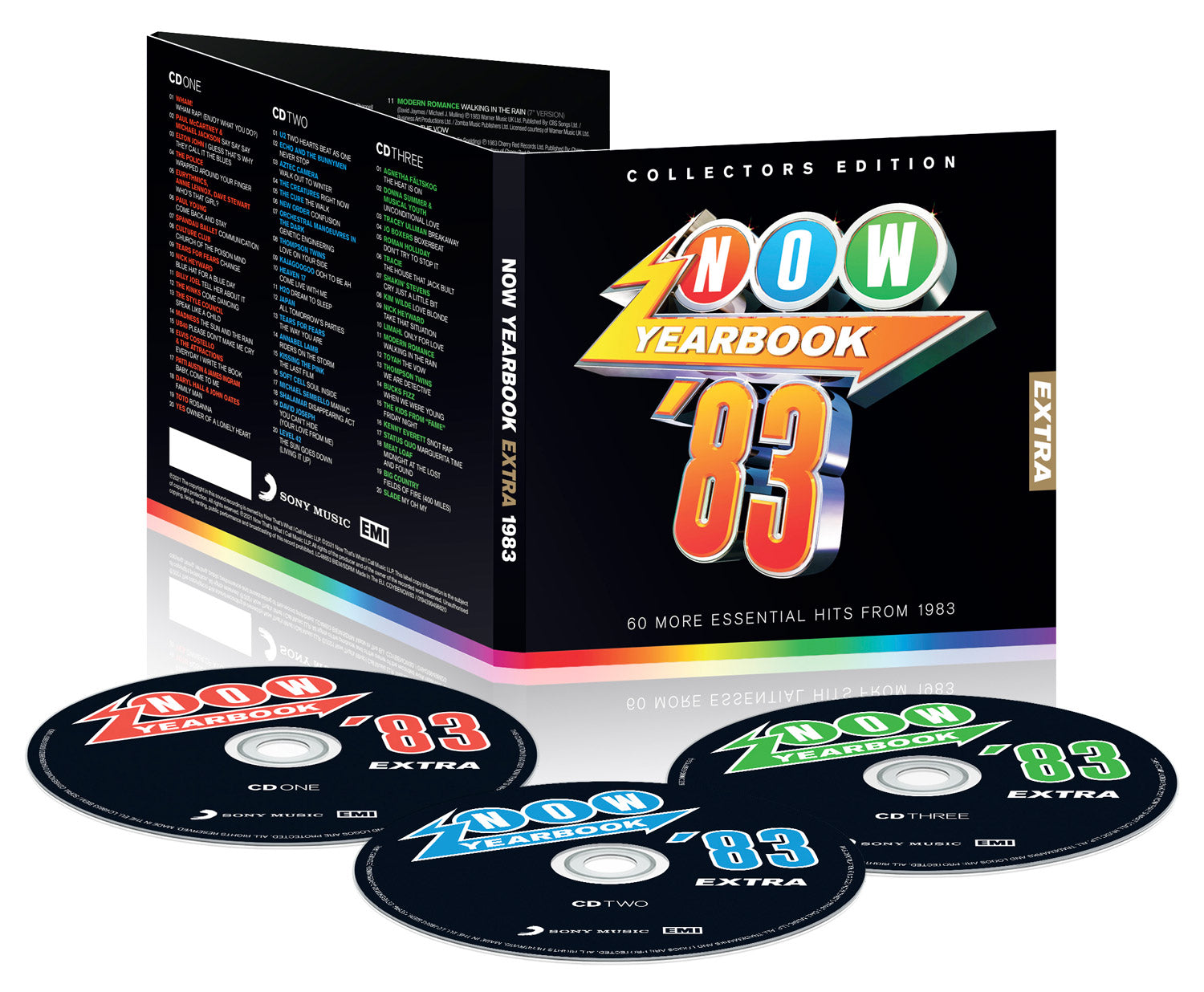 NOW – Yearbook Extra 1983 (3CD)
Release date: 10 December, 2021
Formats: 

CD Album
NOW Music are delighted to present NOW – Yearbook Extra 1983 featuring 60 additional tracks from the stellar pop goldmine that was 1983.
Released as a limited edition 3-disc set, we hope the collectors will find it a great compliment to their collection – and the more casual pop lovers will enjoy re-visiting some of the lesser-compiled hits from the year.
Huge hits from legendary artists including Wham!, Paul McCartney & Michael Jackson, Elton John, The Police, and Eurythmics are followed by pop gems from Paul Young, Spandau Ballet, Culture Club, Tears For Fears and The Kinks.
Blockbuster albums produced multiple hit singles, and 'Extra' allows us to include 'Tell Her About It' from Billy Joel, 'Please Don't Make Me Cry' from UB40, and 'Rosanna' from Toto. Disc 2 includes some of the alternative artists who were becoming chart regulars - The Cure, Echo And The Bunnymen, and U2, and synth-pop stars including Orchestral Manoeuvres In The Dark, Japan, Soft Cell, and Heaven 17, plus New Order's genre defying 'Confusion'… before concluding with electro-dance from Shalamar, and 'Maniac' from the years' huge soundtrack 'Flashdance'. It's all about pure pop to begin disc 3, with Agnetha Fältskog's first solo single since ABBA, alongside Kim Wilde, Thompson Twins, Shakin' Stevens, Jo Boxers, Tracie, and Donna Summer's collaboration with Musical Youth.
Kenny Everett made us laugh in 1983, and two of his well-loved characters feature on his Top 10 single from the year which is also included. We wrap things up with some pop-rock hits from Status Quo, Meat Loaf, Big Country and a big year-end smash from Slade. 60 fabulous moments in pop history – to be filed alongside NOW - Yearbook 1983, enjoy this EXTRA helping!